Thursday, April 14, 2011
A Poem is More than a Rhyme

Lots of children's books are full of rhymes, but that doesn't really mean they are all poetry. From where I stand, a book written in rhyme may or may not be a poem, and a poem may or may not be a rhyme. I adore poetry – reading it, writing it, sharing it – so how do I define it? I really like this definition:
Poetry is an imaginative awareness of experience expressed through meaning, sound, and rhythmic language choices so as to evoke an emotional response. […] The very nature of poetry as an authentic and individual mode of expression makes it nearly impossible to define. (From about.com)
If poetry is an imaginative awareness of experience, then exposure to that awareness could certainly promote growth in any of the developmental domains, depending on the experience! I keep a section on B's book shelf reserved for poetry books, and I've been trying to give them a little extra attention this month, but unfortunately haven't gotten any up to post yet – hopefully this will be only the first of at least a few special features.
Couplets on Common Characters
One poetry book that B has enjoyed enough to request repeat performances is Douglas Florian's Beast Feast
. Florian is known for his accessible and often humorous children's poetry, but he refrains from downright slapstick jokes and imbues his poems with a quietly curious quality. I especially like this excerpt from "The Ants,"
While down below



Beneath the mound
They're building tunnels
Underground.
And so it's been –
And it will be –
Since greatest
Ant antiquity.
Simple and yet profound. Also love that much of Florian's work includes really meaty language that is just the ticket to passively building vocabulary. Florian also illustrates his poetry with very kid-friendly paintings. They are colorful and attractive without being cartoonish or immature.
Beast Feast
, as you might guess, is a collection of animal poems. Besides "The Ants," you'll also find "The Walrus," "The Armadillo," "The Camel," and "The Sloth," among others. Florian has several other themed poetry collections, many of which are living on my wish list right now!
Appropriate for: everyone!
Kids' Poetry Challenge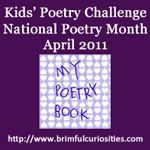 Janelle at Brimful Curiosities is hosting a Kids' Poetry Challenge for the Month of April. The first two weeks got away from me, but I'm excited to be able to join in this week. Even if you don't have a poem to share (try next week!) you should check out her explanation post – she's got a ton of great poetry resources and links listed there! Janelle's post also reminded me that there's more great poetry to be found (some kids some not) each week at the Poetry Friday Round-up, hosted this week at Random Noodling.
Do you have a favorite poem book to read with kids? Even if you don't have a post about it for this week, I'd love to hear suggestions in the comments!
Don't forget: There are a couple days left in library appreciation week – check out our activity if you haven't already!
[*Poetry Month Logo from
poets.org
*]